Hi everyone! Sorry it has been a while since a post, as you can see by the date I started these a while ago and just never got it posted. We have had a lot of things happen around this house and family since October.
I will start with the beginning of October. Andrew and I went to Black Mountain, North Carolina for his sister Sallie's wedding. We had a great time and enjoyed some time away from the kids. Our trip home was fun. We were delayed for 4 hours at the Greenville/Spartanburg Airport due to bad weather here. We finally got to leave and then hit turbulence about an hour outside of Dallas. It was so bad that my laptop was shaking and I could not read it. I had never flown on that small of a plane and never plan to do so again.
Once we got home the true fun began. We had to finish packing our house for the big move down the street. Now Andrew thought this would be an easy move since we literally were going down the street. NOT!! This was the hardest move I think we have ever done. In the meantime, while in the car driving on Monday October 29, Brent asked Jesus into his heart. That was just what a parent needed to hear after a really rough day. That was also the day that Andrew was let go from his job. Talk about a rough time. We were both very nervous that the mortgage company was going to do a last minute check on employment but his official last day was not until after we closed so that was good. We closed on the 31st then came home and waited for the funding to go through so we could get the key. In the meantime I had a cold and I layed down so that I would be ready for Trick or Treating. Well around 3 we got a call from the title company, the mortgage company had messed up on some paper work and we were going to have to close AGAIN!! I am not kidding! We went back on the 1st at 3:00 and closed again. In the meantime the kids enjoyed going Trick or Treating and here are some pics of them.
This morning Santa made an early visit to to our house and brought us our new addition to our family. Yes, we must be crazy but the kids are really enjoying our cute little butter ball. After a long discussion from Miles about naming him Raggedy Andy, the kids all decided to name him "Charlie" Now since discovering Charlie this morning I have been told by Marshall that Santa needs to bring us another puppy because we need two, and Madyson has decided he needs to bring a Cat. I have assured the all that Santa would not be bringing anymore animals to this house!! The three ones have finally settled down a little and let the poor Charlie lay down and take a nap. I caught all three of them reading him a book, but was only able to get a picture of Miles reading. Notice his clothes, a long sleeve shirt, shorts, and dress shoes. He dressed himself and told me that was what he was wearing today. He obviously gets his sense of taste from Andrew!! LOL!!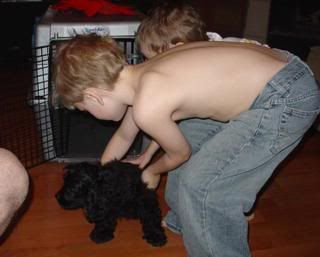 Everyone have a Merry Christmas and I promise I will post pics of Christmas morning as soon as I get a chance.