Once again it has been a while since I blogged. Sorry everyone!! To catch everyone up in March I had emergency surgery for an internal hernia and a twisted bowel, which was caused from me loosing weight, 114 lbs. to be exact. My hernia was leaking and causing me to become septic. I was admitted immediately after I saw the surgeon and put on antibiotics and scheduled for surgery the next morning. I came home that day and began the recovery period. During that time I decided it was time to go back to work. I began work the middle of March working as a marketer for a company that does MRI's. Four days into work I doubled over in pain and went back to the ER. They at first could not get me out of pain and it took about 12 hours to get pain meds in me that eventually started cutting the pain. They came to the conclusion that I had a partially twisted bowel and if I did not get better I would be having surgery again. After having 2 different types of xrays and contrast I finally started feeling better and the twisted bowel corrected itself. Thank GOD, I was not looking forward to another surgery. Since then I have been doing very good and I am enjoying working. I miss being with the kids but it is good for us to have a little break from each other during the day.
This past weekend our "Little Princess" Madyson preformed at Mayfest and was so cute. I am of course partial but you have to admit she looks so cute in her frog costume. She will preform again on May 17 for their final performance for the year. She loved her costume but she really enjoyed getting to put make-up on. She got to wear "RED" Lipstick along with blush, eyeshadow, and mascara. She told me today that in 2 weeks she gets to wear make-up again and she gets to wear "MORE" since she will be performing on stage. She heard her teacher tell us that at our meeting to get her costume. Funny how they hear the things you really don't want them to hear. After her performance she changed into regular clothes and we walked around and enjoyed Mayfest. All 5 of the kids got to go fishing, not my favorite thing to do, but they all enjoyed that. Then we moved on to the kids area where they had a blast playing and making crafts, Madyson even got to have her fingernails painted. That was a big hit with her. Bradley and Brent enjoyed the Science area, and really enjoyed gettting to make slime and launch rockets. For a day that started out cold, we all had a great time.
Finally I would like to ask you all to say a prayer for my friend Robyn's sister. Terra has been in the hospital for the past week and they thought she was going to get to come home today but she has taken another turn for the worse. Her liver enzymes are elevated and the doctors can not figure out why. Last week her kidneys where also failing and she was on dialysis. Terra is only 26 and currently has a walker because she is too weak to walk on her own. Please just keep her whole family in your prayers as they go through this difficult time.
I am hoping to get some family pics taking here in the next few weeks as long as every stays well and the weather cooperates. I will post those as soon as I get them done.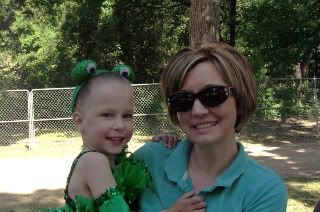 Madyson and Mommy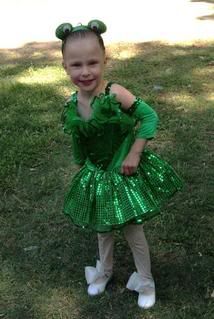 Our little Princess Frog!!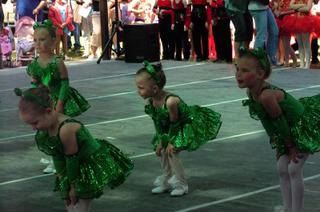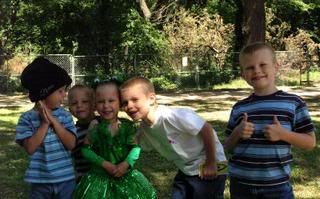 Miles, Marshall, Madyson, Brent, and Bradley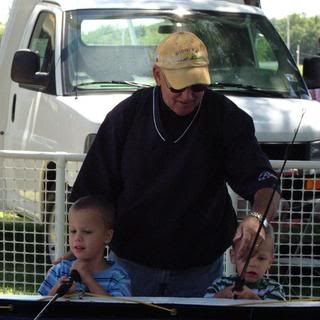 Miles and Marshall fishing with PePaw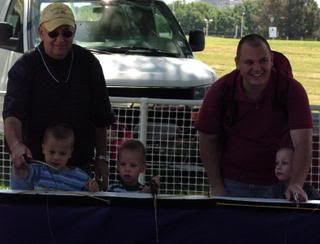 Miles, Marshall, and Madyson fishing with Daddy and Pepaw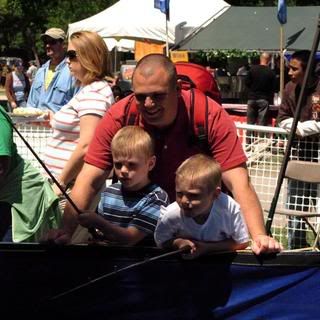 Bradley and Brent fishing with Andrew
Marshall and Miles busy making a tambourine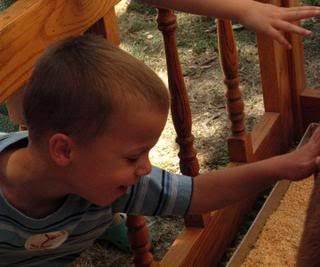 Miles decided he needed to get a little closer to "Elsie" the Borden cow.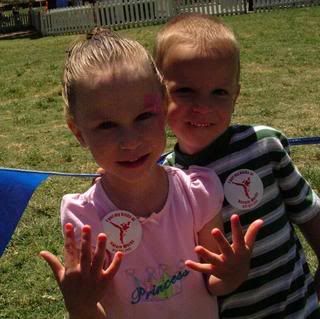 The day would not have been complete without Madyson getting to have her fingernails painted.