Saturday we spent the day at Hawaiian Falls in Mansfield celebrating all 5 kiddos birthdays. They had a blast. Miles was tall enough to ride all the rides and was not scared of a single one. He has always been my dare devil!! The other two little guys enjoyed the wave pool and the kiddie area with their friends John, Jacob, and Alison who will be turning 5 in a few weeks. Bradley and Brent took off with their friends and we very rarely saw them except for when they where to check in with us. I am glad they all had a great time. On Tuesday we celebrating the little ones actual birthday and they opened more presents from us and their grandparents. Yesterday they went and spent the gift cards they received. Now they are pretty smart about gift cards. They know that if they put them together they get a much better gift. So all the way to Walmart Brent was trying to convince the three little ones to put their gift cards with Brent and Bradley's so they could get a Nintendo WII I quickly axed that since I knew they would not share that with the little ones. So instead they bought a PSP 2 and got the guitar and a game to go along with it. They are having a blast with it and I was very impressed that they worked together to get something they really wanted. Madyson decided on a doll, no surprise there and the little boys got pieces to go with their Geo track train set. They are really into building things and they received Lincoln logs from Glen and they are building things like crazy. It is so fun to see how much they have matured just over the past few months. Anyway as promised here are some pics from their party. I will share more when I get them from my mother in law. Enjoy!!
Everyone, of course, wanted a different theme so here we go!!
Madyson had a Strawberry Shortcake party with a cute cake made of course by our famous "Uncle Glen" he is not really their uncle but that is what they call him. They love Uncle Glen's cakes and always put their order in about 6 months before their party if not sooner. He makes AWESOME CAKES!! Thanks GLEN! I know it is a lot of work decorating them. It was a lot of work just baking them all!!
Miles and Marshall wanted a Monkey cake to go with their monkey surfing theme room!! Look how cute this turned out!!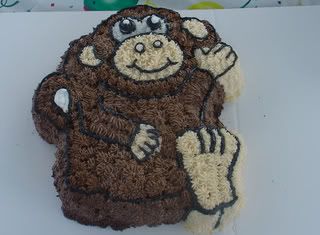 And Brent and Bradley wanted a surfing theme. We just redid their room in a surfing theme now they want to go surfing. I told them to keep dreaming no where around here to do that!!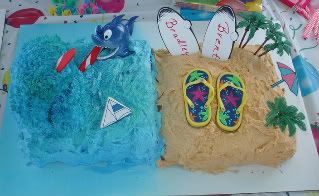 Thank you Glen for decorating the cakes!!! As always they turned out really cute!! Glen decorated all 4 of the cakes with a messed up rotary cuff. He is truly a good friend and really loves those kids to do this for them. So a Big Thanks to him!!
Here are just some random pics!! The first is of one of my dearest friends that I met scrubbing into the NICU the week after Mckenzie died. Her babies were just a few days old when we met. Our kids are best friends and love to play together and play very well together. It is nice to have a friend that has kids the same age that do the same things we do. In the background you see my dad. He decided it was safer outside of the cabana than in the cabana with presents and paper flying everywhere.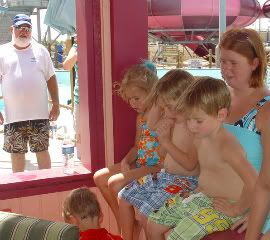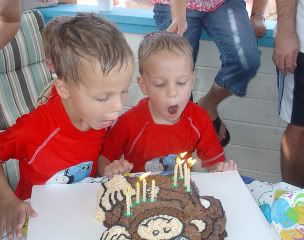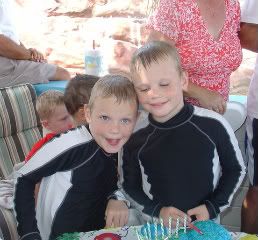 Andrew was in charge of the camera and he did not get a picture of Madyson with her cake I am getting pictures from my mother in law tomorrow so I am sure she has one that I can post. I have posted more pictures on my facebook album so if you are a Friend on facebook head over there to look at them, if you are not email me and I will send you a invite. Have a nice evening. Tomorrow my big boys turn 9 can you believe that!! They are going into the 4th grade. I will have to go find some baby pics to post of them for old time sake. So check back I might have them done tomorrow if not hopefully Monday.