On June 25, Andrew, Brent, Bradley, my neice Abby, and myself got on a plane and headed to Washington D.C. This was the kids first time on a plane and they were excited. Our planed took off early that morning at 7:00 am and we landed a little after 11 at Ronald Regan National Airport. The flight was great, we had no turbulence and the kids did great. Bradley, Abby, and Andrew sat in front of Brent and I. And both the boys got windows seats, with the understanding Abby got a window seat on the way back. They had backpacks with things to read and do and they did not cause any problems.
Abby is like my sister. She has to check out every bathroom so she got up twice to go to the batroom even though I had her go before we took off, and Bradley got up once. Brent and I were troopers we did not get up once. Which is not unsually for me!! (I do have the bladder of steel) Walking through the airport Abby wanted to stop and shop but I told her we had plenty of shopping in the days ahead! So we got our luggage and headed to the rental car bus.
After getting our rental car we headed to the Pentagon to see the Pentagon Memorial. The Memorial was touching, it brought tears to mine and Andrew's eyes. This was our first time to visit and we explained to the kids exactly what happened on Septemeber 11,2001 when they were 2 years old.
Ford's Theather
Deanna, Brent, Abe, Abby, and Bradley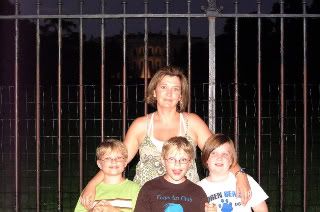 In Front of the White House
Deanna, Bradley, Brent, and Abby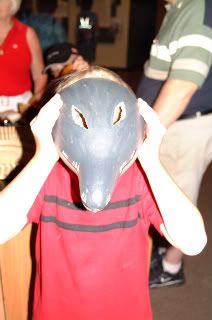 American History Museum
We spent the whole day there. They had a blast. The museum had a science area that we spent a lot of time at.
Brent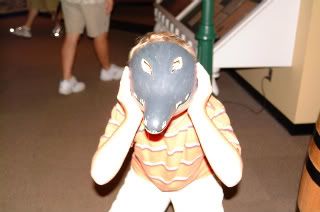 Bradley at the American History Museum.
We had a blast and the boys enjoyed learning all about American Goverment and History. They are my little book worms. Their favorite place was the Spy Museum but we were not allowed to take pictures inside. After visiting the museum every where we went they said people were spys!LOL!!
Visiting the White House was hilliarous. My niece Abby saw this button on the fence and she ask me what it was. I told her I did not know but don't push it even though it looked as if it was broken. I told them that all in the yard of the White House were Secret Service Police but of course, they did not believe me until they saw someone in the bushes. It was getting dark so they could not see all the security. Well after that Abby decided she wanted to find out about the button. She turned around to a Secret Service Police officer that was sitting in his car behind us and ask what it was for. It use to be used to call up to the White House and he told her it was older than me. He then told her that people think when you push the button missles shoot out of the fountain. I just died laughing. After that they believed about anything I told them!!LOL!! I had some fun with that one.