Saturday while I was fixing lunch and Andrew had gone to the grocery store I heard Madyson screaming she was bleeding. I took off runing towards the kids rooms when she meet me in the hallway with blood flowing from her upper arm. I did not stop to ask what had happened I just grabbed her and took of to the kitchen for some paper towels to apply pressure. Brent heard the garage go up so he ran out to get Andrew. Madyson kept saying Miles had cut her but I did not know with what until Andrew appeared with a pair of child's sccisor, like the ones they use at school. While trying to calm her down I looked at her and realized not only had he cut the poor baby's arm he had cut all her hair! YES, all her hair on the left side that is! I literally started screaming and crying at the same time. I realize it is only hair and it will grow back but she is my only girl and now has no hair. I can not even put a bow in it. After our trip to the ER for stitches, which turned out we just had to get glued back together, as Madyson says, with Dermabond Andrew took her to Cool Cuts 4 kids and told them to do whatever they could to even it up. Needless to say I could not go. I could not watch them cut the other half of her hair to match the nice butcher job Miles had done. When she came home they had put a little barrett in her hair and pulled a tiny bit up in a pony tail. Let's just hope it grows fast. Everytime I look at her poor hair I want to cry. But I am thankful that he did not hurt her worse. Where he cut her could have been really bad. So yes, I agree with Andrew it is only hair and it will grow back! I think what makes it so bad is that she sat their and let him do it!! And now she asks me if "Maca" can fix it! Maca is my friend who cuts my hair and Madyson's. I told her that she did not have anything to fix and that it just has to grow back.
Before the Infamous haircut!!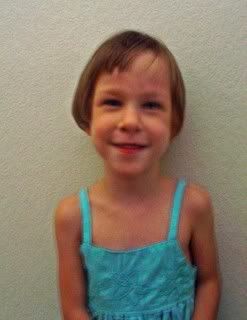 Miles' version of what he Thought his sister should look like!!
Notice how there is very little hair on her left side!! He did not touch the right side! And Madyson did not cry until he cut her arm! So she is as guilty as him! She let him do it! And Marshall stood by and watched! So techniqually they are all guilty! Does that suprise you!!LOL!! We have the victim, the barber, and the guard!!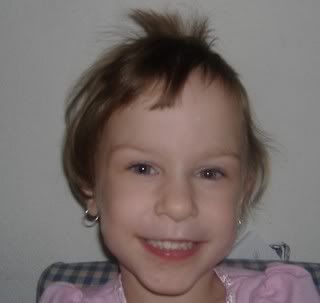 What had to be done to even it up by the professionals!!
At least we don't have to worry about her twisting her hair and pulling it out anymore! She doesn't have any to twist!! Just warning everyone now there will be no Christmas card pics this year unless her hair has grown back where I can at least make her look like a girl! Headbands here we come!!