Today I was organizing some pictures on my
computer and came across some that I thought I would share. I
also get the question how big did you get carrying quads? Well here you go, this
was taken as I was being wheeled down to the OR to deliever them.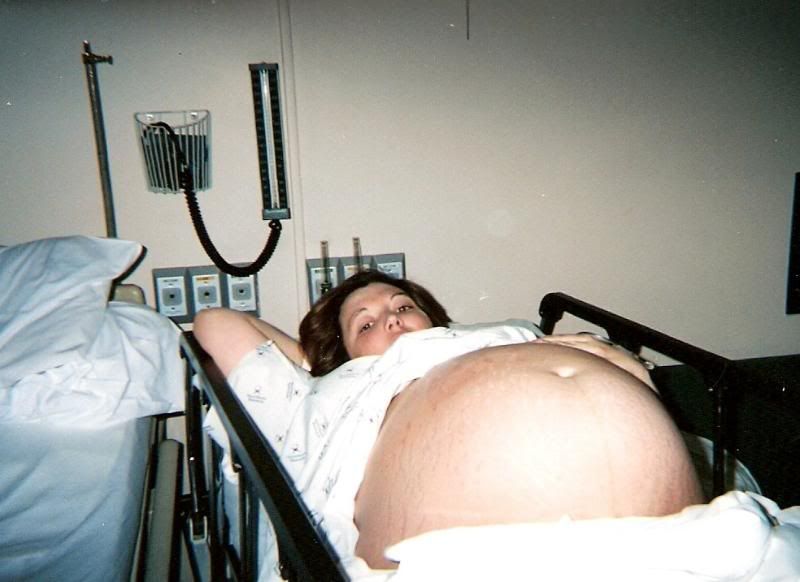 Yes, I was huge!! I felt like I was going to POP! I was not
that big at 37 weeks with Bradley and Brent.

This is the first time I got to hold Mckenzie. My aunt took this picture and had it enlarged and put in a frame with roses from Mckenzie's funeral. It is a very special photo that I will cherish forever.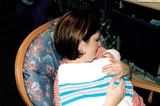 My dad is
multi talented!! This was the little guys first Christmas and since we could not
take them to see Santa, so Santa came to visit us.




Next
up,one of my all time favorites of my dad. This was in July 2004 at Disney
World with my parents. Stitch really liked my dad!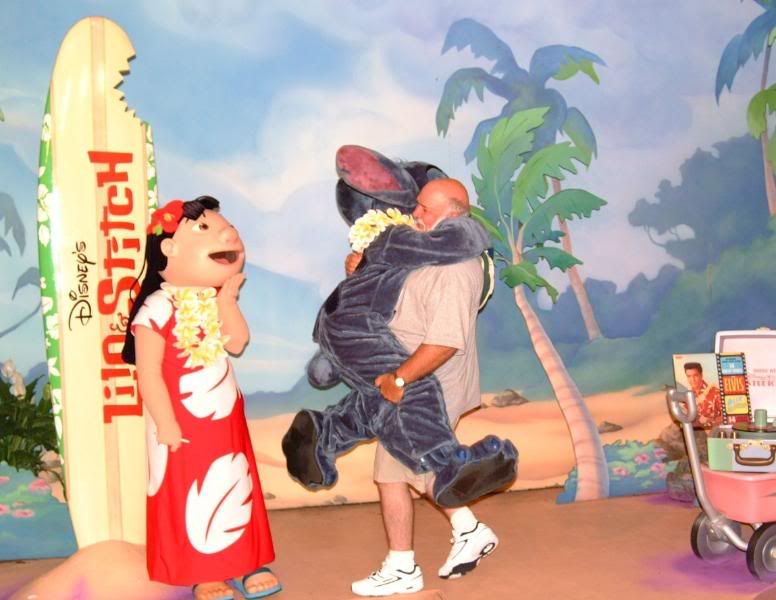 This has to be one of my favorites of
Brent and Bradley. I took this at the park when they were just over 2. I
actually entered it in a contest and it was published in a book.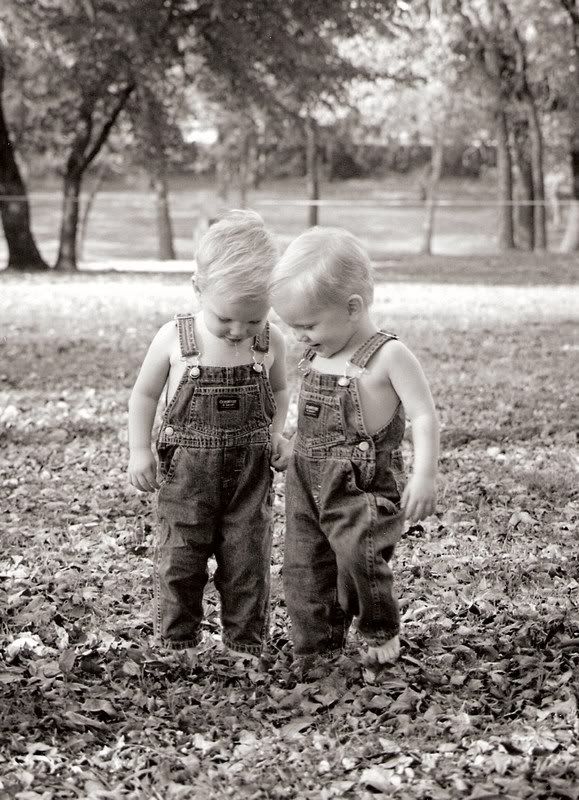 This one was taken at the same time. Bradley stepped on a
something and Brent sat down to look and figure out what it was. It was so
cute.





She may have been small but her lungs worked
just well. This was shortly after Madyson came home. She was 11 weeks old
and she is wearing doll clothes. Yes, I said doll clothes. Preemie clothes
literally fell off of her so one day while at Costco I found these cute doll
clothes and we played dress up.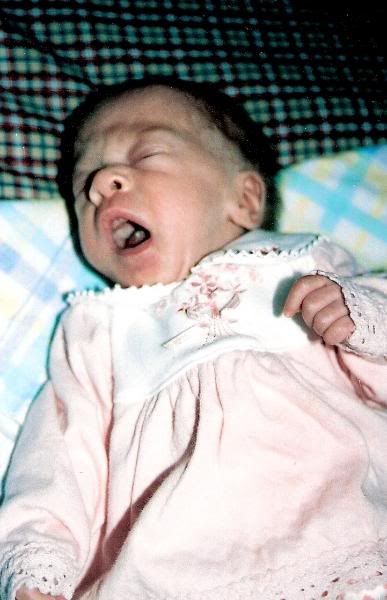 Fall 2005
at the park.
Back row left to right: Brent and Bradley
Miles, Madyson, and
Marshall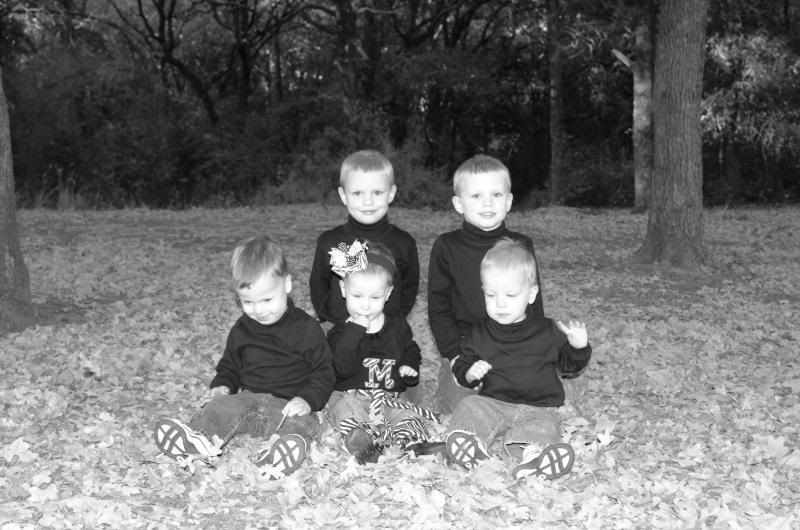 Bradley's Baptism
June 2007




Brent's Baptism
December 2007





My dad got the privalge of Baptising his older 3
grandchildren all in the past 1 1/2. I know it was a special time for him
as it was for the rest of us. I look forward to the day he can baptise the
younger 4.

And to end the famous Bluebonnet pics. I am
allergic to bluebonnets and found out after taking a wonderful pic of Bradley
and Brent when they were 2. So I braved the elements with benadryl in tow
so that I could get a pic of all the kids in the bluebonnets. Bradley and
Brent were 4 1/2 and Miles, Marshall and Madyson were 8 months old. I am
hoping I can get another bluebonnet pic this year. Hopefully I can stay
out of the bluebonnets and still take the picture.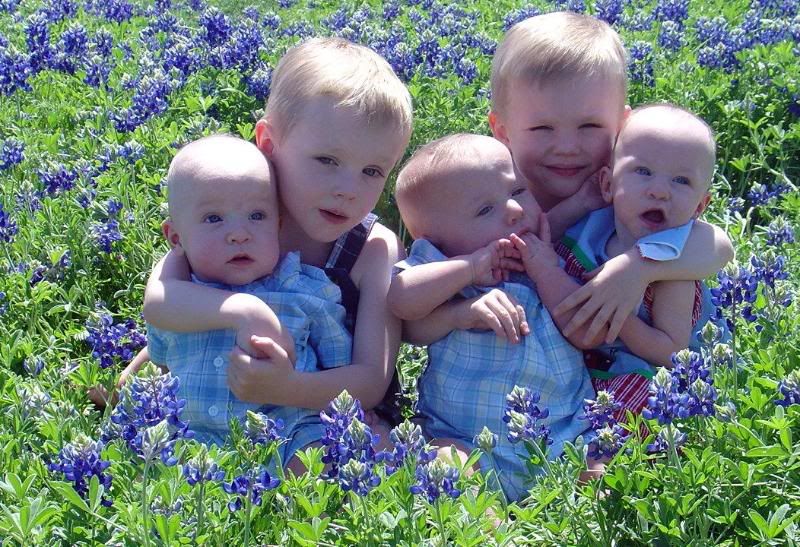 Left to right: Marshall, Brent, Miles, Bradley
and Madyson
I hope you enjoy the pics! I was fun looking back on how much everyone has grown, or shrunk, in my case. I bet you did not know a stomach could stretch that much. Well it can and will never do it again.