Our first week of school is over and we all made it!!! Including Mom and Dad!! The afternoons after school proved to be hectic. They all came home HYPER you would have thought they had eaten a ton of sugar. But by about 7 the little ones went to sleep without any problems. This is what they looked like at night!! Oh how we love these moments. Nice and quiet and everyone fast asleep!!






Marshall is on the left and Miles is the one with his bottom up in the air! As far as their sheets. Well Marshall decided he needed to pull them off instead of sleep on them. And I was not waking them up to put the sheets back on.

After seeing the boys fast asleep and so cute.I decided to try and sneek into the princesses room and see what I saw. Now opening up her door you have to be very careful because she wakes up to the slightest sound.




What a sweet little angel! She had put this hat on sometime after I put her to bed.

And this is what happened when the flash went off!!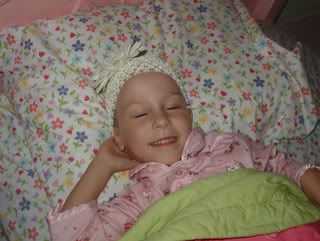 Little stinker!!
Madyson's first day of dance. She would not let me take her picture without having my sunglasses on so here you go!! She also got a new dance bag that I made for her out of some ballerina fabric I had left over she was super excited because she got a new bag and new tap and ballet shoes.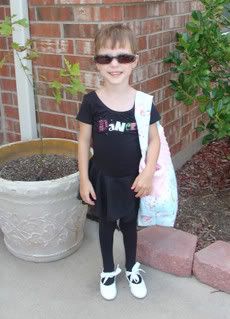 The little guys have a color chart system for behavior. Green means they have been good all day. We have a deal, bribe whatever you want to call it, with Miles, Marshall and Madyson. If they come home with a green on their folder everyday for the next six weeks Miles and Marshall are going to get more pieces to thier Geo Trax system and Madyson is going to get a new hat(she is into accesorizing right now)LOL!! As far as Brent and Bradley if they do well the first six weeks of school on their report cards they will get to buy a new game for thier PSP2, which they bought with their money they got for thier birthday. They are smart boys! They put all their money together ,and even tried to get the little ones to go in on it, so they could get a PSP2 and the guitar hero game. Andrew and I pitched in a little so they could get both. So now I hear a guitar being played all the time. They are bot very good at it, and have told me I suck at it. Which I do but I don't want to hear my 9 year old tell me that so we had a talk about telling people they suck.